♣ Made in Korea
♣ Delivered with tracking number within Australia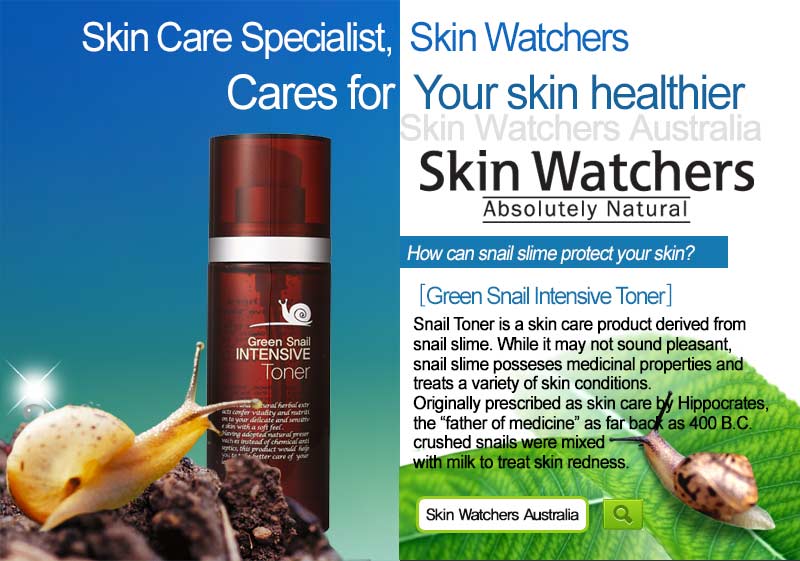 •  It is one of the most complete and balanced skin care elements ever created. Protects, repairs, renews and moisturizes the skin.
•  It is 99% natural, hypoallergenic and a safe natural cream that triggers the regeneration of your skin.
•  Paraben or preservative-free, alcohol-free, no mineral oil
•  Incorporates an all-natural ingredient that has been known for its healing and restorative powers since ancient Greek times.Contains no Artificial Colourings.
•  Contains no Artificial Colourings.
•  Suitable for all skin types and all age groups. Perfect for people with mixed or oily complexion.
•  Noticeable results within a week of usage.
•  
Our snail mucus was imported from France

(French mucus is the only one that has been through stringent stability testing) compared to our competitor who uses untested mucus from Chile, China, USA.
♣ 9 Free Formula
Skin Watchers' 9 FREE FORMULA brings you freedom from skin troubles.
Artificial Colouring Free, Alcohol-Free, Benzophenone Free, Talc Free, Parabens Free, Steroids Free, Phenoxyethanol Free, Mineral oil Free, Dimethicone Free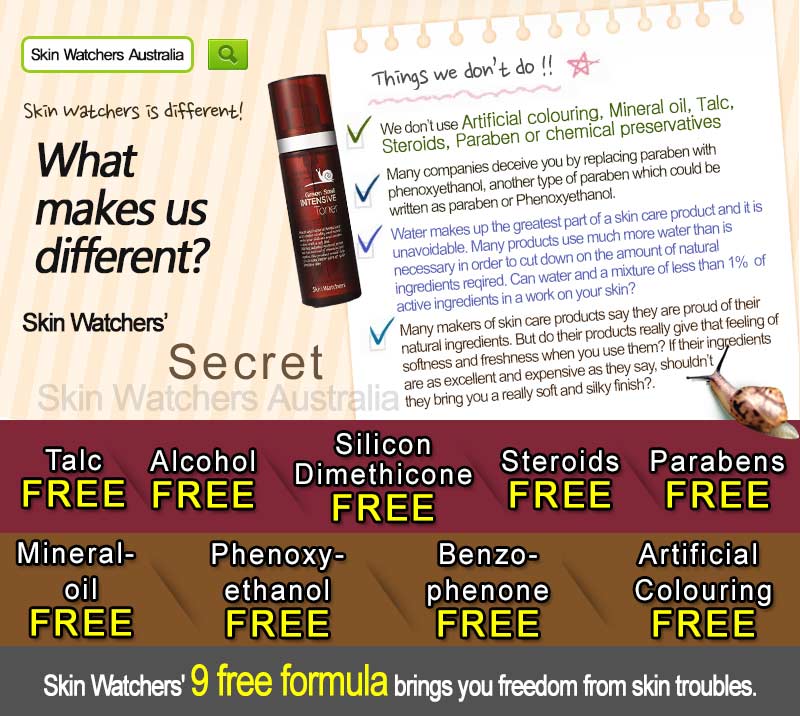 ♣ Key Functions
The healing properties of snail serum functioned as a powerful anti-oxidant & moisturizer to protect, regenerate & repair damaged skin tissue (relieved red & irritated areas of skin).
•  It helps promote the natural healing process.
•  Acts as an exfoliate that eliminate dead cells, destroys pathogens, heals and regenerates damaged tissue.
•  Reduces scars, removes damaged cells and imperfections.
•  Nourishes the skin, protects it from free radicals, improves elasticity
•  Repairs and helps the skin produce antimicrobials that fight infection.
•  Excellent anti-aging & skin firming treatment (effective in reducing fine facial lines & wrinkles).
•  It also increases density, moisture retention capacity and skin's firmness and leaves it baby soft and smooth.
•  It treats acne, stretch marks, scars and sun damage too.
♣ Full Ingredients
Water, Cetyl Ethylhexanoate, Glycerin, Snail Secretion Filtrate, Polyglyceryl-3 Methylglucose, Distearate, Cetyl Alcohol, Butylene Glycol, 1, 2-hexanediol(natural preservatives), Beeswax, Sodium, Hyaluronate, Glyceryl Stearate, PGE-100 Stearate 9004-99-3, Caprylic/Capric Triglyceride, Psidium Guajava Fruit Extract, Anthemis Nobilis Flower Extract, Beta-Glucan, Camellia Sinensis Leaf Extract, Ceramide 3, Hamamelis Virginiana (Witch Hazel) Extract, Morus Alba Bark Extract, Physalis Alkekengi Fruit Extract, Portulaca Oleracea Extract, Tremella, Fuciformis (Mushroom) Extract, Usnea Barbata (Lichen) Extract, Zanthoxylum Piperitum Fruit Extract, Pulsatilla Koreana Extract, Aloe Barbadensis Leaf Extract, Althaea Rosea Flower Extract, Carbomer, Arginine, Disodium EDTA, Perfume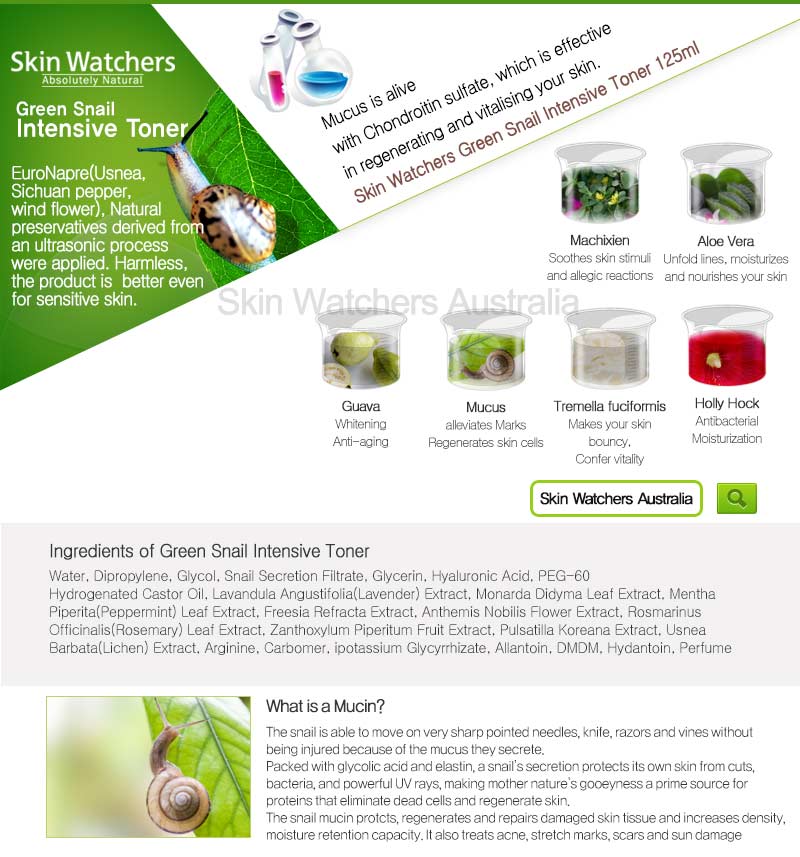 ♣ How To Use
1. In the morning and evening, spread a small amount of cream into the skin after applying a toner or essence.
2. Put your palms on your face so that the cream permeates your skin more effectively. (The warmth of your palms on the face increases skin permeability.)
* In your daily skin care routine, it is important to use Toner > Essence > Emulsion > Cream that order as the products works according to the rule of osmotic pressure.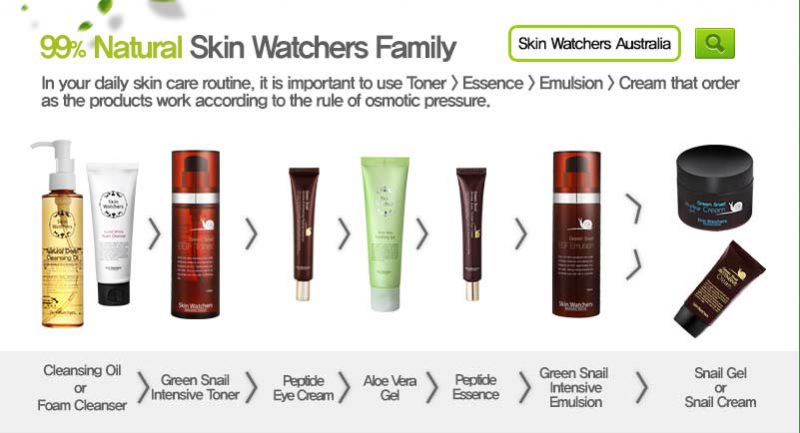 ♣ Please Note
1.Why it does not sticky if there is snail mucus in it?
Normally it does not thick or sticky when the snail mucus added in a skin care product.
Many companies advertise their products are sticky as if they put more snail mucus in it. In fact, that is the proof that they are using more chemical ingredients and viscosity increasing agents for visual effects.
2.Most of natural skin care products have a short shelf life, but why does this product have a long shelf life?
In fact, there are lots of things that customers don't know about. The shelf life of a natural preservative is not 6 months. It is normally 2~3 years. There is one reason that most of the natural cosmetic companies advertise their products in exaggerated ways.
It's because natural preservatives are vegetable extracts, so they are very expensive.
They are 6 times more expensive than chemical preservatives like general paraben.
Of course, the production costs would rise in case of increased natural preservatives.
That's why they say using their products within 6 months as they putting less natural preservatives.
However we have maximized the contents of the natural extract in our product, so it can be stabilized for 2~4 years. The cost for this procedure is much higher than for other natural creams.
Most of our company's sales are export, so we cannot afford to make cheap products.